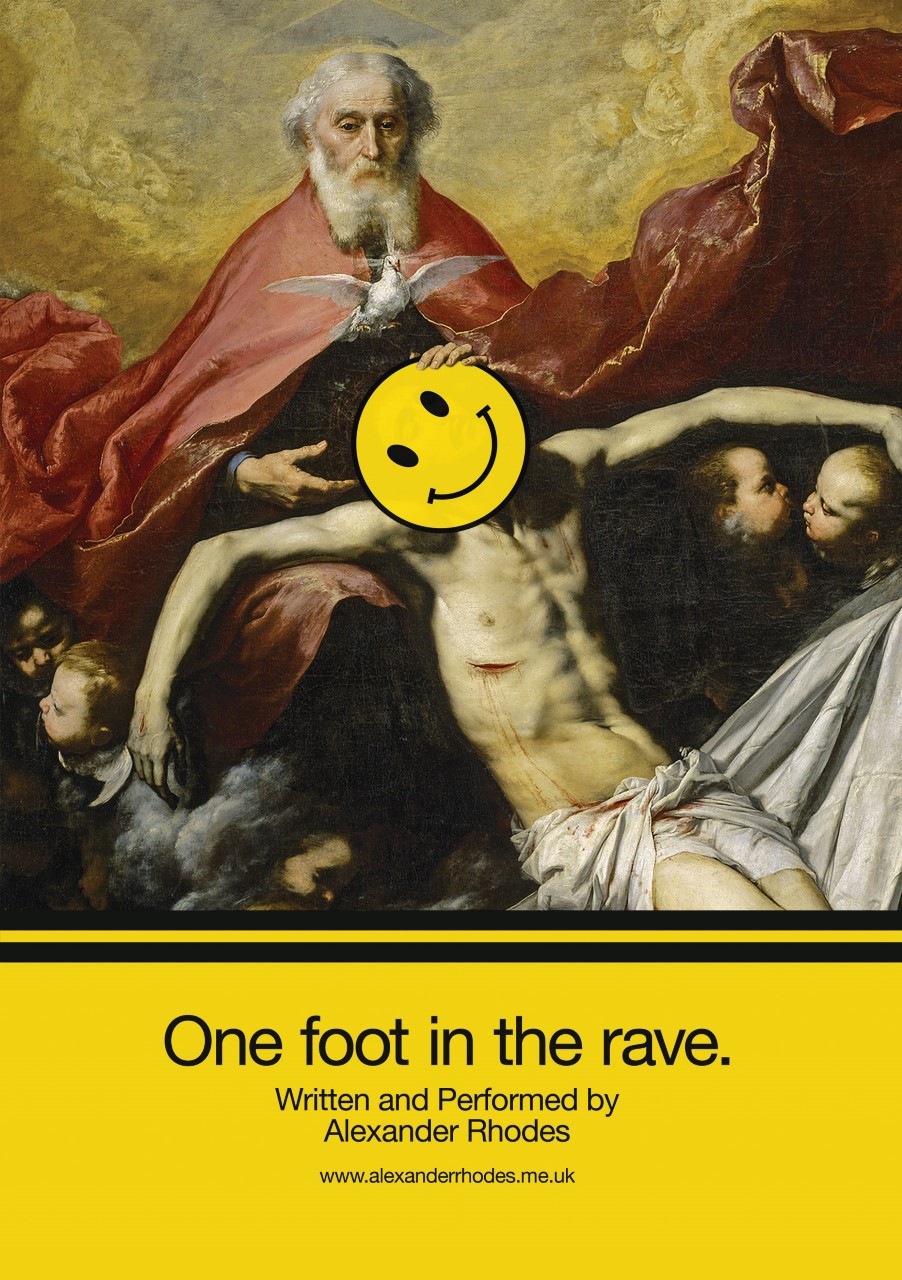 One Foot In The Rave
The award-winning play from poet and playwright Alexander Rhodes.
Age guide 16+
Contains Drug and Alcohol References and adult themes.
"A disillusioned 23-year-old Jehovah's Witness breaks free from the controlling cult and lands on the ecstasy fuelled dance floors of 90's clubland.
Shunned by his family and everyone he knows, he is not prepared for what lies ahead".
In 1976 Sean's world changes for ever. Dragged into a doomsday cult, by parents who are struggling to find their own identities, the family are brainwashed into believing the end of the world is nigh.
But the route to salvation is not as it seems…
One Foot In The Rave is the debut verse play from poet and playwright Alexander Rhodes. The story is an energetic mix of agony and total ecstasy, set to a backdrop of club classics which were specially remixed and produced for the play,
Alexander moves effortlessly between the characters and scenes to deliver the chemical highs and pitiful lows of life as an ex-member of a cult.
Find out what audiences are saying here
Join Alexander Rhodes conversations using #onefootintherave #ExJw
Went to see #OneFootInTheRave…so brilliant! A witty, warm, moving and hilariously self-aware roller-coaster of a story. Go & check it out!
Still thinking about this story of survival, Very poignant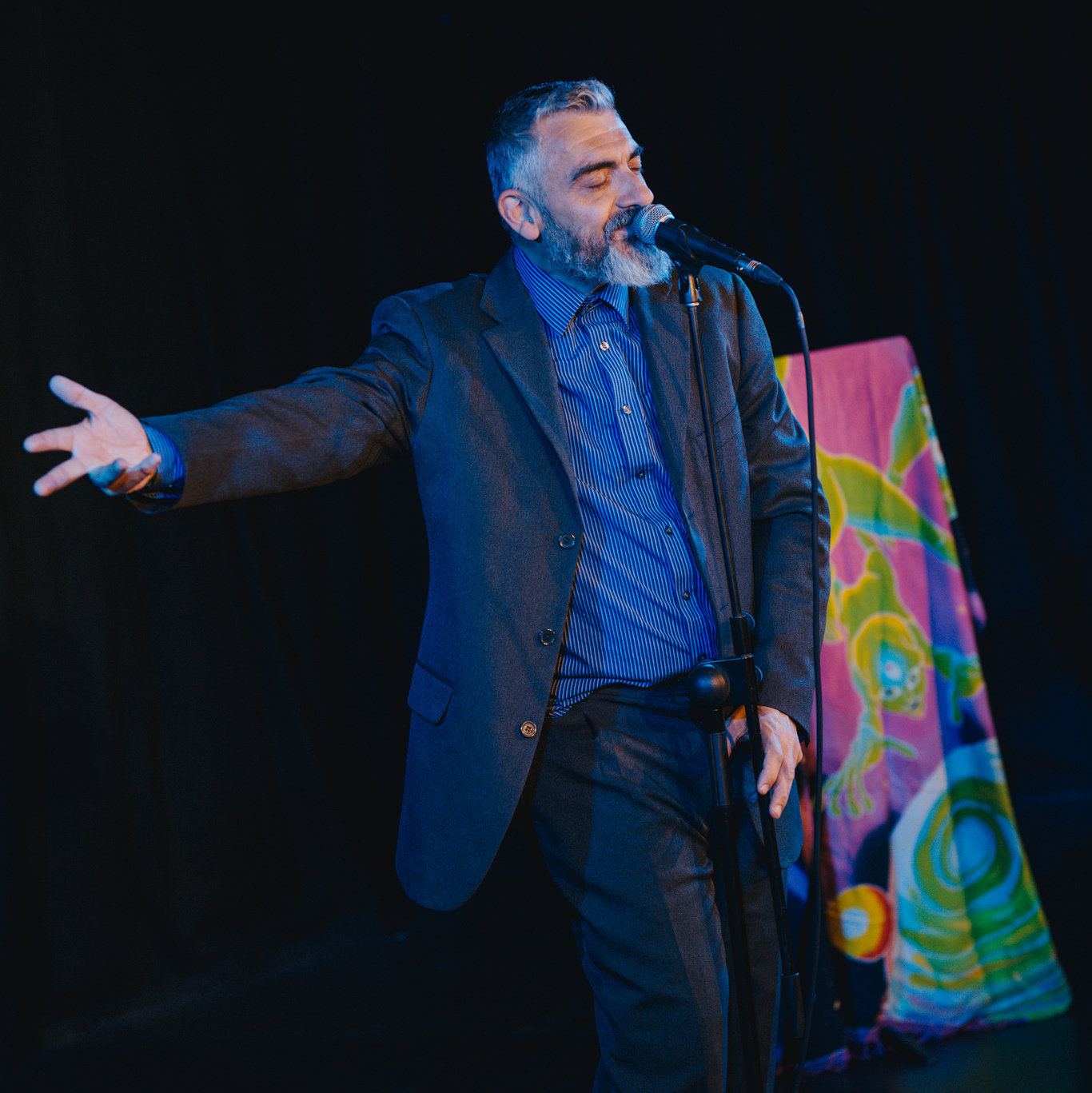 Immersive, emotional & eye opening –
Witty, Sharp & at times, heartbreaking. Unforgettable.
The Herald – William Telford *****
(5 stars)
"Alexander Rhodes managed the stage with an intense and captivating style. Almost hypnotic with perfectly placed pauses moving it from spoken word to (Almost) musical lyrics"
Made In Plymouth Magazine *****
(5 stars)
Or listen to/watch interviews with Alexander Rhodes here: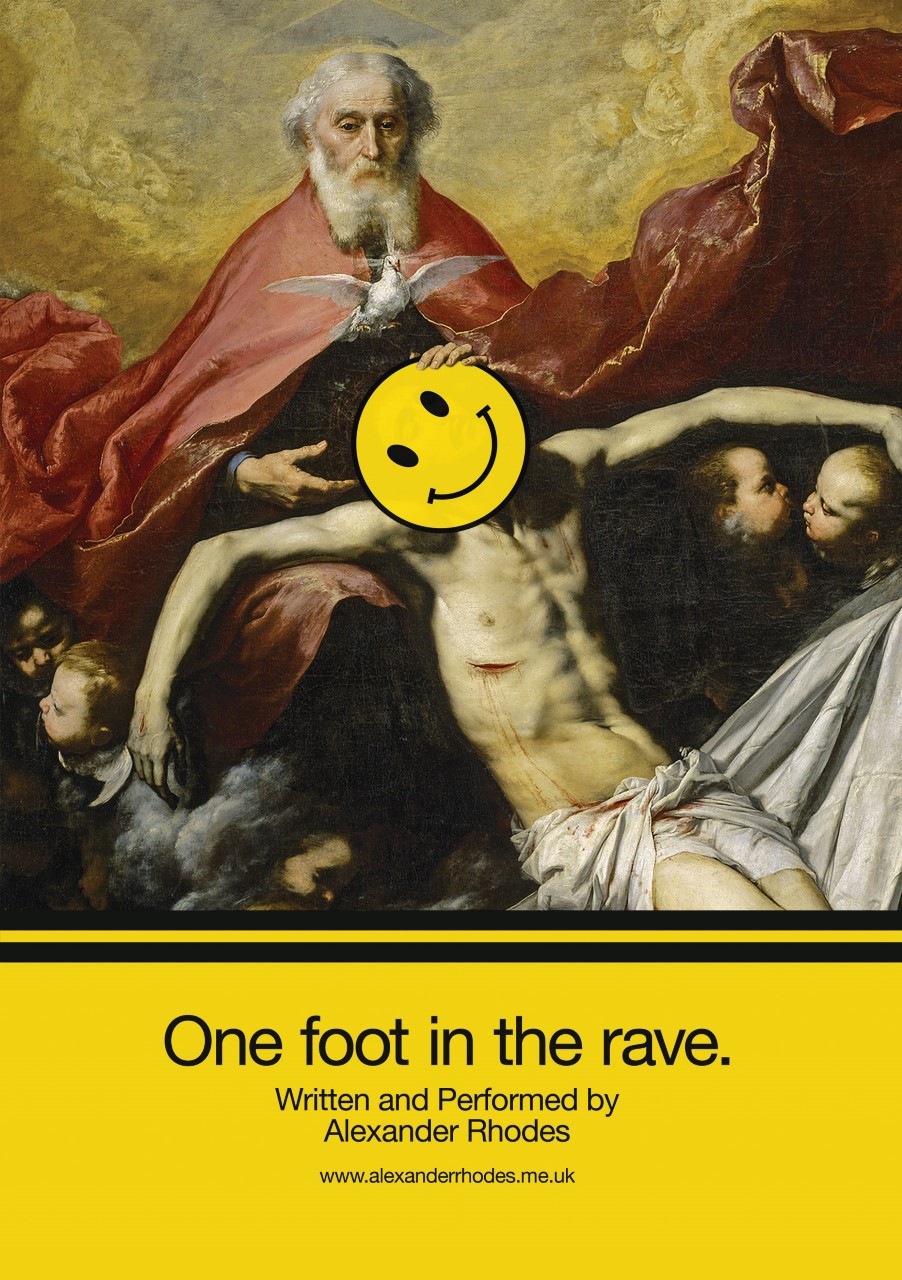 To find out where you can see One Foot In The Rave, visit Alexander Rhodes' Gig guide here.
Booking One Foot In The Rave
Theatres:
For larger theatres and black box space performances, with full lighting design please contact Sean Holland.
Festivals, Fringes and Spoken Word Events
One Foot in the rave can be performed on a smaller scale. If you would like to discuss booking the show, or co-producing a show in your area please contact Alexander Rhodes here. The show can be booked with an optional DJ Set.
One Foot In The Rave Sofa Gigs
One Foot In the rave can go even smaller!
If you would like to discuss a sofa gig for 10 to 15 people in a more intimate setting this can be arranged. These events are specifically for Ex Jehovah's Witness groups who might like to see the show in their area. For more details please contact Alexander Rhodes here.
Download the latest Press Pack Here
Watch the trailer for One Foot In The Rave here